Read this and had to take the daily dose of chewable 81 mg aspirin
http://www.foxnews.com/politics/2012/05/16/fox-news-poll-obama-pulls-ahead-romney-as-presidential-race-heats-up/?test=latestnews
You are kidding me? We weren't stupid enough the first time-we're ready to do it again?
We can hope this poll is off or that this will change in due time.
Am no Romney fan at all but you can bet the farm i will vote for him.
CHECK OUT THIS TWIT PIC: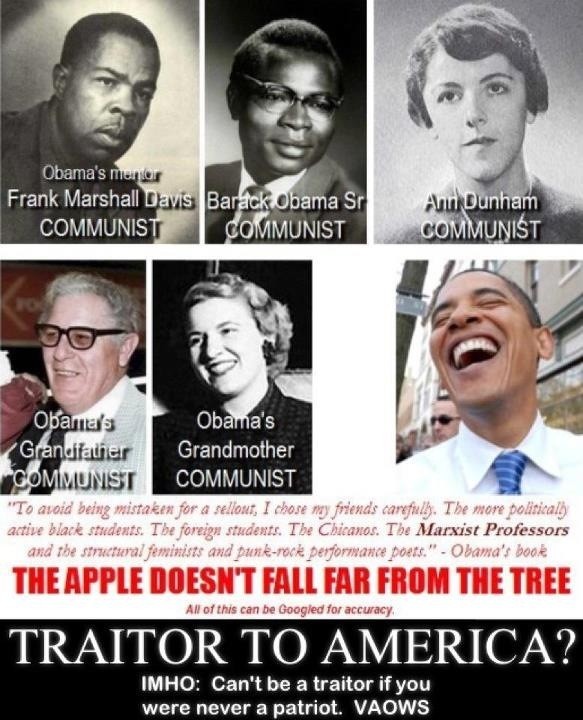 Tell me.If any other candidate associated w/ Marxists and embraced Marxism would you vote for them for President of the United States? Actually would you vote for them for anything? Then why Obama? Ok. Argue that Obama had a Marxist mentor and took his cue from Marxist professors and had a self professed Marxist(VAN JONES)in the White House but is NOT a Marxist or at the least not influenced by Marxism? What was transform America about? What was redistributing wealth about? Obama meant something by this,right? Are we
that
clueless?
Can we please get our heads out of the sand here(am being polite)?
We know the lSM supports him so they're going to make the economy look better than it actually is. Look around for Pete's sake. Does the picture match the reality?
We know that Obama is putting out these positive ads patting himself on the back,right? What does Obama say and do? Look at him. Forget his ads. They don't jive with who he's been.
If the American ppl vote this Marxist back into office i will totally lose faith in the ppl in this country. i thought they knew better. I thought they were more informed I was sure they could see through the media.
Can we Pls stop ppl. Am getting a headache.
Admin




Posts

: 130


Join date

: 2012-05-09




---
Permissions in this forum:
You
cannot
reply to topics in this forum