1. the automated service. Who came up w/ this one? Is it saving time and money? Most of the time i could have a call over with in 5 min or less IF i could just speak with a LIVE person. what a concept.
2. captchas. Capturing someone are we? I'm older. My eyesight is not what it used to be. If a website insists on using these because they fear spam PLS use numerical values. They are easier to read,less prone to error It's harder to mistake one number for another than it is to mistake a b,q or p.. I bet if i've redone a captcha once done it a 1k times. Remember some older folks have poor hearing AND eyesight. Just use numbers. How hard is that?
3. Somewhat related to no 2 is no 3 .Registration on a website. When you fill out a form on the internet you make one little error and you have to start all over.Now you would think you would be able to use the same information.Sometimes you can but more often than not it will not use your email address because it is already in use. Ditto username. The password has now vanished and you have to type it in all over again.
4. People make mistakes. To err is human goes the old saying. Let's discuss incompetence. The right hand not knowing what the left is doing or Peter isn't communicating with Paul? Case in point; my husband is going to have foot/ nerve surgery. He is going to be laid up for quite awhile. He needs to keep his leg(which is going to be in an cast)elevated.
His oxygen supplier stopped by to drop off new tanks. We mentioned the upcoming surgery to him so he would know the days husband would not be available and having to set things up for him. The gentleman said they had hospital beds,without a rail, and that they could provide. He said that husband's insurance would cover it. Super.... solves a lot of issues.
We call insurance co and they said to call Dr. We called family dr. They say to call Podiatrist's(the one who is doing the surgery)office. We call and they say to call the family physician. Now you figure by the time we figure out who to actually contact,get approval and jump through all the hoops aka red tape husband's surgery will be done,did and over.
And then some.I feel sorry for today's doctors though. They spend 20 min seeing a patient,
hours
filling out paper work.
That's just one instance. I got a defective pair of glasses-you can't begin to imagine the hoops i jumped through to get this matter taken care of. Persistence pays off but it took me finally getting through to the manager at the company that made the glasses and within 5 min matter was settled.
She was probably THE most competent person i have spoken with in ages.She was a 'get er done' kind of gal. I wish i could remember the name of this company and this lady;i would give both kudos. Defective products can happen. The thing that matters is getting the problem resolved. It was zillions of phone calls later but i finally reached that one COMPETENT person.
5. Speaking of answering services; PLS hire American workers. Nothing against foreigners. Don't get me wrong here but once you do the dance with the answering system and FINALLY get a live person it would be nice if you understood them and they understood you.I truly appreciate the companies i call that actually have American workers who answer the phone. I also do not want to waste my time with spanish before i press 1 or 2 or whatever the heck it is. We live in the United States. This is the language.
I don't care if King Ferdinand and Queen Isabella are on the other end.
6.Loved the days when there were 3 major brands of cereal,maybe 1 of aspirin, milk and bread. Walmart is quite the store but I have
Meniere's Disease
and the few times i absolutely have to go w/ husband to help at grocery store-or God forbid by myself-it is a nightmare. Lucky to find the door when i'm done. Is there not some way to categorize your grocery section and make it possible to find items? Worse, must you keep moving things around? Nothing like it's way over there now but it was here last week. Love those little dollar stores. Brand x,yz,small aisle, easy access. In and out. There is nothing worse than being totally disorientated in a Walmart store.Yes, i do like Walmart but no i do not like shopping anyway.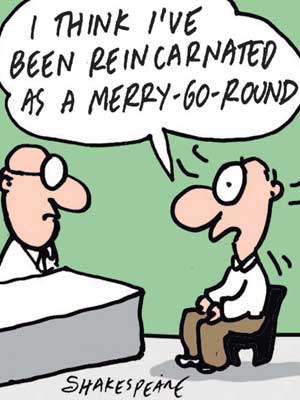 7. In the name of safety or something products are now hermetically sealed. Pill bottles-what is this 4 layers of cellophane tightly wrapped to get through and then that child proof cap(IF you get that far). PLS. Must we buy a stick of dynamite now to open our packages?
a. we do not have children b. if we did none of these items would be in reach.
8. How bout those numbers that you just have to look up if you call a company about a product or a service. The cable company. Yep they want the no to the modem or the no to a computer model. I'm supposed to see and then be able to read this. Is that a B or an 8?
9. Hello computer companies. Your people put these computers together and evidently don't consider that sometime down the road someone may have to install a new piece of hardware.Who designs these things?
Work on your cases would you? Make them 'user friendly.'
10. Junk from China.
Admin




Posts

: 130


Join date

: 2012-05-09



---
Permissions in this forum:
You
cannot
reply to topics in this forum